Bites HHC Gummy - Grape - 50MG
Product Info
These edibles are worthy of being mouth-fed to an emperor. Pick your buzz straight from the vine, and enjoy 50mg of HHC, the smoothest, all-natural hemp-derived cannabinoid on the market today. Picked straight from the vine, these HHC-packed Grape Bites have just the buzz you're looking for!
What is HHC? HHC or hexahydrocannabinol is the newest hemp-based cannabinoid that's been rediscovered over the past year. First found in the 1940s, HHC is a milder form than some of your favorites — Delta-9 THC, Delta-8 THC, and others. It gives users a smooth and subtle buzz that leaves you clearheaded and ready to take on the day. And the best part? This tremendous new cannabinoid is legal across the United States.
Experience the newest sensation in cannabinoids with delicious, high quality HHC Bites!
Strength Per gummy
50mg/gummy
Sugar, Tapioca Syrup, Corn Syrup, Water, Pectin, Citric Acid Natural Flavors, Fruit and Vegetable Extract (Color), and Hemp-derived HHC extract.
Active Ingredients
HHC Products are pure, all-natural, hemp-infused cannabinoids known especially for their strong buzz. Users enjoy these products in myriad forms, including gummies and vapes. Besides their buzz, users enjoy HHC Products for their many other benefits too.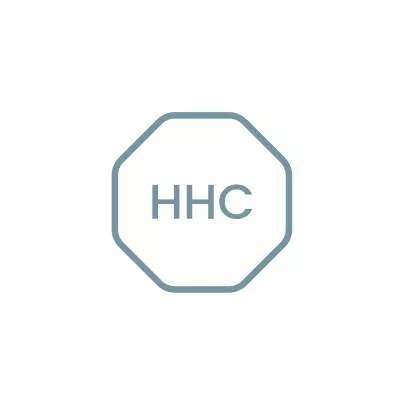 Frequently Asked Questions
The effects of HHC gummies take how long to kick in?
It may take up to four hours for the full effects of most edibles containing cannabinoids to become apparent. You will usually feel the effects within 30 minutes, but it could take up to four hours for them to peak.
What's the difference between an HHC gummy and edible?
They are the same thing. An HHC is gummy is an HHC edible.  Edibles can be anything — gummies, chocolate, lollipops, etc. So take a bite and enjoy your buzz!
Is it possible to become addicted to HHC gummies?
A substance like HHC, if used inappropriately, can become addictive. It is possible that regular use of HHC could cause some users to become dependent on the drug, which could lead to withdrawal symptoms if they were to stop using it. All substances that affect brain and body health are susceptible to this.
What is the duration of the effects of HHC gummies?
Because of the way HHC gummies are metabolized, their effects may last anywhere from six to eight hours. Metabolites from HHC can persist in your body for up to 90 days. Although HHC has a short half-life, you can still test positive even after 30 days if you are a chronic user.
Gummies: What Are They Used For?
Despite the benefits of oil, gummies are very popular in both wellness and recreational circles due to their taste, versatility, and ease of storage.