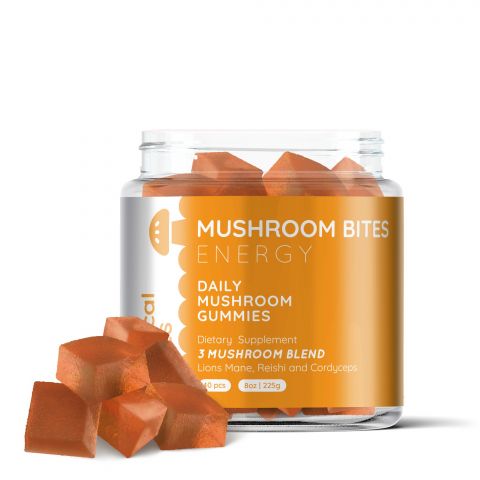 On sale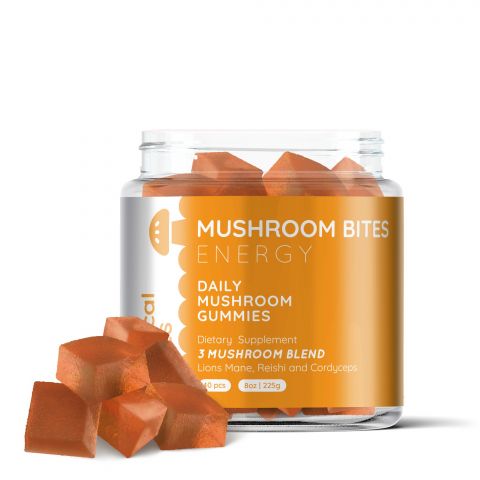 Tropical Fruit Gummies - Energy - Mushroom Bites
Product Info
Tropical Fruit Gummies for Energy by Mushroom Bites is the all-new, all-natural way to feel focused. Featuring lion's mane, reishi, and cordyceps, Mushroom Bites Tropical Fruit Gummies are a great way to energize. This three-mushroom blend is an excellent value-for-money combination.
The Mushroom Bites Tropical Fruit Gummies Energy supplement aims to provide a product that will help you become your best self. Our energy gummies are the ideal product for anyone who needs more focus.
Taking our mushroom supplement every day is delicious! We use only the best ingredients when manufacturing our mushroom supplement chews, which are made with an all-natural Tropical Fruit flavor. We don't include unnecessary fillers, artificial colors, or preservatives when we make our mushroom gummies. Our mushroom complex supplements do not contain gluten, dairy, soy, gelatin, or eggs; we are non-GMO and vegan!
Using only premium ingredients is essential for us. We use mushroom extracts and powders that are 100% natural, packaged in the USA, and conform to cGMP standards.
Don't let your best self be hidden behind a mask anymore! Use Mushroom Bites Tropical Fruit Energy today and see your best self shine!
Light Corn Syrup (Corn Syrup, Salt, Vanilla), Sugar, Water, Organic Cordyceps, Organic Lion's Mane (Hericium Erinaceus), Organic Reishi (Ganoderma Lucidum), Gelatine, Modified Corn Starch,Propylene Glycol, Maltic Acid, Natural & Artificial Flavours, Lorann Oil's Raspberry Flavor, Cane Syrup, Honey, Citric Acid - Adm, Sweetener (Maltodextrin, Sucralose), Water, Sugar, One Or More Of The Following U.S. Certified Colors: Red #40, Red #3, Yellow #5, Yellow #6, And/or Titanium Dioxide, Modified Corn Starch, Vegetable Gum, Citric Acid, And Less 1/10 Of One Percent Sodium Benzoate And Potassium Sorbate (As Preservatives), Sodium Benzoate,The Energy Blend.
Frequently Asked Questions
What are the benefits of Mushroom Bites?
With Mushroom Bites gummy proteins, you can feel like your best self only with the help of mother nature. Forget crazy diets and energy drinks. With our new Mushroom Bites, you can naturally lose weight, rest better, and gain the energy you deserve.
How do gummy supplements work?
Gummy supplements deliver concentrated amounts of specific vitamins, minerals, and other nutrients that your body needs to function properly. When you consume a gummy supplement, the nutrients are absorbed through your digestive system and enter your bloodstream, where they can be used to support various physiological processes.
Are gummies as good as other forms of supplements?
Gummy vitamins can be just as effective as other types of supplements, but their efficacy depends on various factors, such as the quality and quantity of the ingredients, the formulation, and the individual's health status and needs.
 
Are energy gummy supplements worthwhile?
Energy gummy supplements may provide a temporary boost in energy, but their efficacy and safety depend on various factors, such as the quality and quantity of the ingredients, the formulation, and the individual's health status and needs.
 
Are Kratom gummy supplements really legal to use?
The legality of Kratom gummy supplements varies by state and country. It's important to check the local regulations and consult with a healthcare professional before using Kratom products.