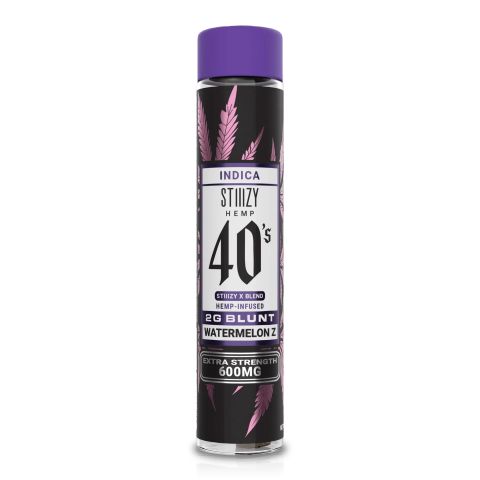 Sold out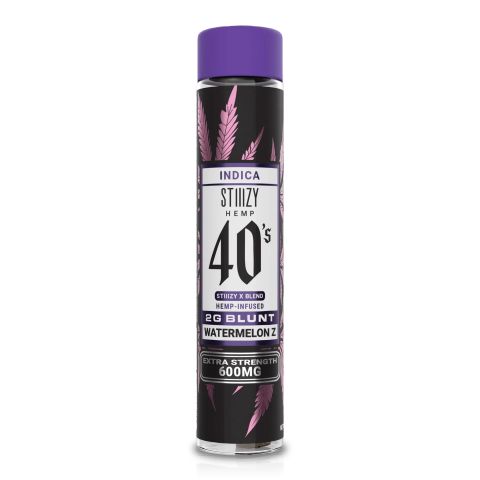 Watermelon Z Blunt - Indica Hemp - 2G - STIIIZY
Product Info
Immerse yourself in the future of elevated indulgence through the Stiiizy Watermelon Z Blunt. Introducing a revolutionary twist on tradition, these 2G blunts are meticulously crafted to redefine your elevated experience.
Each Stiiizy 40s Blunt showcases an innovative blend, commencing with 100% tobacco-free hemp wraps, delicately adorned with kief for an added touch of opulence. Supported by a sleek glass tip, Stiiizy blunts emanate an air of sophistication.
Plunge into a realm of refreshing joy with the enchanting Watermelon Z flavor, treating your senses to a symphony of summer sweetness and invigorating coolness that establishes the framework for an unparalleled vaping journey.
Embark on a fresh era of potency with Stiiizy Blunts, where ingenuity intersects with indulgence. As you engage, you're not merely sharing a blunt; you're sparking a movement. Amplify the experience and witness the future of enjoyment unfurl with each luxurious draw."
100 % Hemp Flower, Hemp Concentrate, Terpenes
Customers Reviews
There are no reviews yet. Be the first to write a review!
Frequently Asked Questions
What is a pre-roll?
Pre-roll joints that have been rolled ahead of time are known as pre-rolls. In order to make a standard pre-roll, you only need cannabinoids, a rolling paper, and a small filter at the end. The potency of pre-rolls may be increased by adding infusions or other cannabis products. It is not necessary to purchase any other equipment in order to purchase a pre-roll, as opposed to a bowl, bong, or vape.
Are there different types of pre-rolls?
Buying pre-rolls is similar to purchasing other smokable flower products. Depending on your desired effect, the type of strain you prefer is really up to you. There is usually a strain specific pre-roll. There are several categories of strains, including Indica, Sativa, and Hybrid. Pre-rolls also come infused with different cannabinoids like delta 8 and HHC. They can also come with kief.
What are the benefits of pre-rolls?
The advantage of pre-rolls is that there is no commitment. Purchasing only one pre-roll is perfectly acceptable if you are unsure or simply want to test them out. This way you're not stuck with a bunch of flower you don't like.
Are pre-rolls made with real smokable hemp flower?
Yes, pre-rolls, or joints are pure hemp flower infused with delta 8 or HHC or your favorite cannabinoid. It's a classic way of enjoy THC.
What type of pre-rolls do you have?
We have an exciting lineup of smokable pre-rolls, including delta 8 and HHC pre-rolls.
Recently Viewed