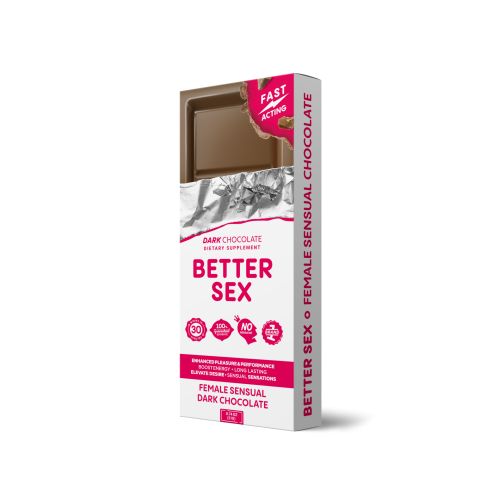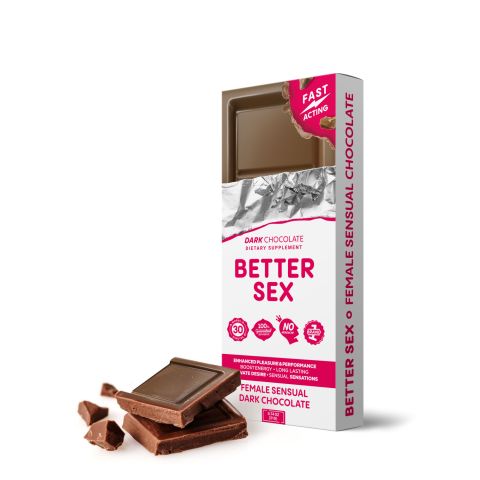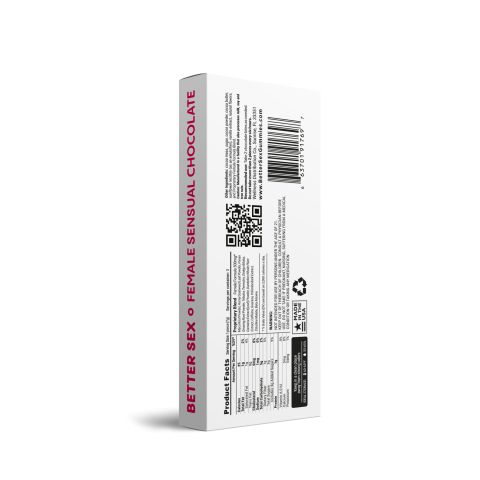 On sale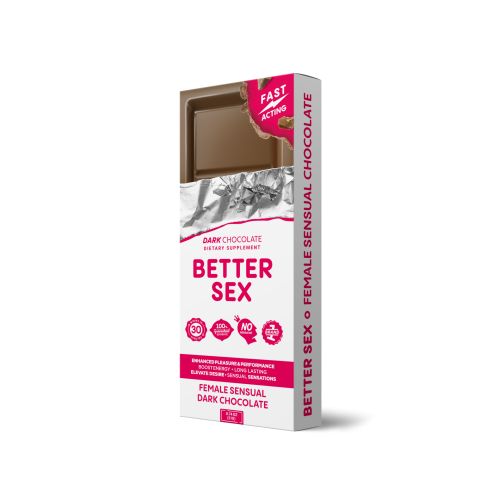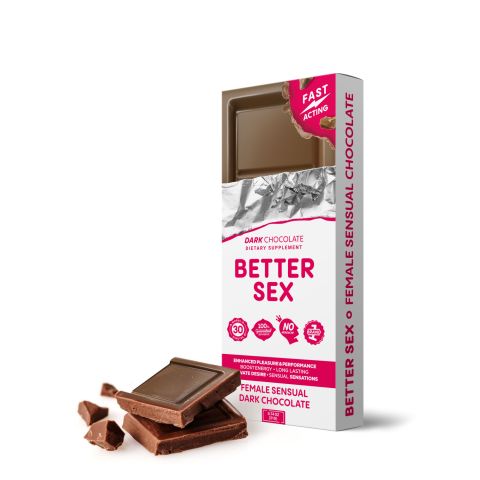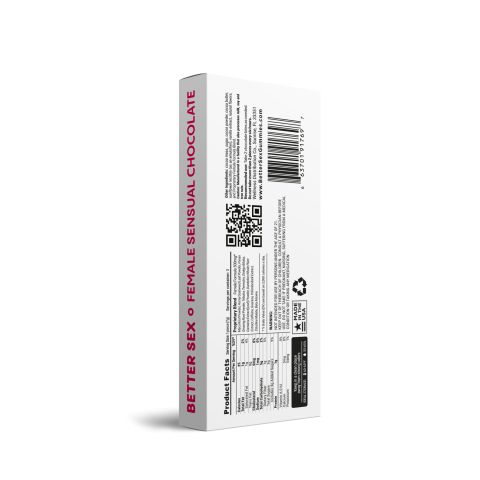 Better Sex - Female Sensual Dark Chocolate
Product Info
Ladies, is your intimate life seeking a spark of excitement? Envision this: you arrive home after a demanding day, your thoughts entangled in a web of responsibilities. Amidst the noise of work, bills, and daily chaos, the touch of your partner might seem distant. Your evenings may dissolve into TV shows and late-night snacks, leaving passion and closeness on the sidelines. True, your intimate life may be steady, but why settle for satisfaction when it could be extraordinary?
Uncover a remarkable transformation with our exquisite Better Sex Female Sensual Dark Chocolate.
You deserve more than a mere routine; you deserve a blaze that ignites desire. This is where Better Sex Female Sensual Dark Chocolate steps in. With just two delightful bites, you'll open the door to a realm of pure pleasure and unbridled ecstasy, reigniting the allure you once shared with your partner.
The secret to this enchantment? Better Sex dark chocolate acts swiftly, so you don't have to wait. In as little as 30 minutes, the passion that may have eluded you for years will resurface, leaving work, responsibilities, and stress behind. Your focus will shift to the excitement, to the magnetic force that draws you closer to your partner. However, it's essential to take a moment and pace yourself. While Better Sex Female Sensual Dark Chocolate sets the stage, your partner's readiness adds the finishing touch.
Welcome heightened desire, increased pleasure, and a fresh sense of enjoyment. Say goodbye to concerns about headaches, side effects, and lingering sensations. Better Sex Female Sensual Dark Chocolate promises sheer bliss and unfiltered delight in the space of your choosing. So, let the everyday dissolve as you embrace a few days of revitalization because Better Sex is here to rekindle the fire in your world of intimacy.
Cocoa mass, sugar, cocoa powder, cocoa butter, sunflower lecithin (as an emulsifier), vanilla extract, natural flavors, and Proprietary Female Formula Blend.
Customers Reviews
There are no reviews yet. Be the first to write a review!
Frequently Asked Questions
What are supplements?
Supplements are a collection of non-cannabinoid, non-hemp-derived products. Like everything here at CBD Mall, they are all-natural and designed to help you.
Are Mushroom Bites a cannabinoid product?
No, Mushroom Bites have no hemp or cannabinoids in them. These are natural supplements made with lion's mane, reishi, and cordyceps.
Are supplements safe?
Yes, our supplements products are completely safe. These products are third-party tested and designed to help you be your best self, whether that's giving you energy or helping you shed a few pounds.
Why should I try a supplement product?
Supplements are a great way to enhance your wellness and well-being without hemp or cannabinoids, get rest, energy, or lose weight with all-natural herbs and vitamins. Be your best self with supplements.
Are supplements legal?
Of course, these supplements are 100% legal. As with anything, we suggest speaking with your doctor or a medical professional before beginning a regimen. But our supplements are designed to help you take little steps toward big goals, such as weight loss, gaining energy, and more.
Recently Viewed