Fresh Delta 9 THC Chocolate Bar - Dark Chocolate - 150MG
Product Info
Belgian chocolate? Yes, please. All-natural, all-legal delta 9 THC? And it's now available in chocolate! Get the munchies and then satisfy the munchies all at once!
With our sweet Delta 9 Chocolate Bar in Dark Chocolate by Fresh, you can enjoy 150mg of high-quality, hemp-derived delta 9 in mouthwatering Belgian Dark Chocolate! With this delicious new treat, you can kill your delta 9 cravings and satisfy your sweet tooth simultaneously!
This inconspicuous chocolate bar looks exactly like any other candy bar, which makes it an excellent edible for on the go (just be sure to travel safely!). Complete with little chocolate squares, you can eat as little or as much as you want and customize your delta 9 experience!
Like all our other delta 9 products, this Chocolate Bar in Dark Chocolate by Fresh is rigorously tested in third-party labs for safety, purity, and efficacy. Better still, this mouthwatering dark chocolate bar is the perfect way to find your happy place!
With Fresh Delta 9 Chocolate Bars, you get real Belgian chocolate with 150mg of delta 9 THC. With this high potency, these strong products are for adults only. It's made from all-natural hemp cultivated in the USA and is Farm Bill compliant, meaning it is federally legal and legal in most states. You must be 21 years or older to purchase.
To enjoy our chocolate bars, start slow and work your way up when dosing. Break off one chocolate square and enjoy! Take more as needed, but never too much! Take before bed to promote rest and take with friends for a good time. Always use it in moderation!
Strength Per square
5.36mg/square
Delta 9 Per square
5.36mg/square
Belgian dark chocolate Couverture (Min. cocoa 53.8%), Sugar, Cocoa butter, Cocoa mass, Emulsifier, Soya lecithin, Natural vanilla, Certified Kosher, and Hemp-derived Delta-9 THC extract. These dark chocolate chips MAY CONTAIN TRACES OF DAIRY.
Active Ingredients
Delta 9 Products are pure, all-natural, hemp-infused cannabinoids known especially for their  classic THC effects. Users enjoy these products in myriad forms, including gummies and vapes. Besides their high, users enjoy Delta 9 Products for their many other benefits too.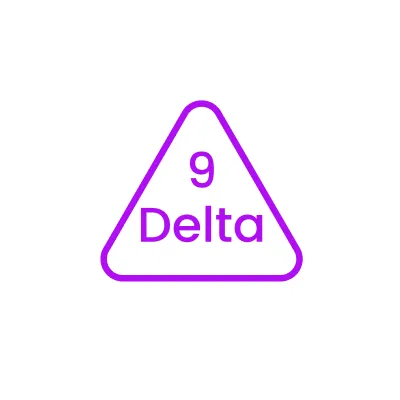 Frequently Asked Questions
How does delta 9 chocolate work?
Delta 9 chocolate is like any edible (except much more delicious!). It comes on slow and hits you hard. You only need to eat one or two squares to really feel the effects. It's the cause of and cure for the munchies all in one!
What type of delta 9 chocolate do you have?
Our delta 9 chocolate comes in different varieties including dark chocolate and milk chocolate. 
Is delta 9 chocolate potent?
Yes, delta 9 chocolate is extremely potent. Never eat the whole bar at once - only one or two squares. If you feel you need more, take just one square and wait.
What is the safety profile of delta 9 chocolate?
We only carry the best delta 8 chocolate as it is derived from hemp plants, making it one of the safest compounds on the planet. All CBD Mall products are subjected to third-party testing. In addition to providing instant euphoria and excitement, delta 8 chocolate is also an effective way of consuming this buzzy cannabinoid.
How long does delta 9 chocolate remain in your body?
In addition to delta-9 THC being effective in your body for five hours, its metabolites remain active for about 90 days. Metabolites last for several days, and they can still be detected after 30 days.