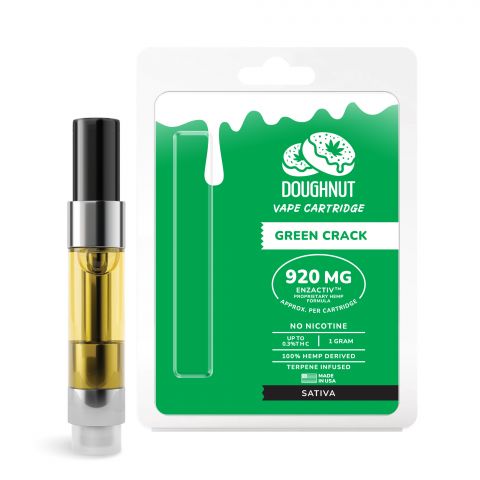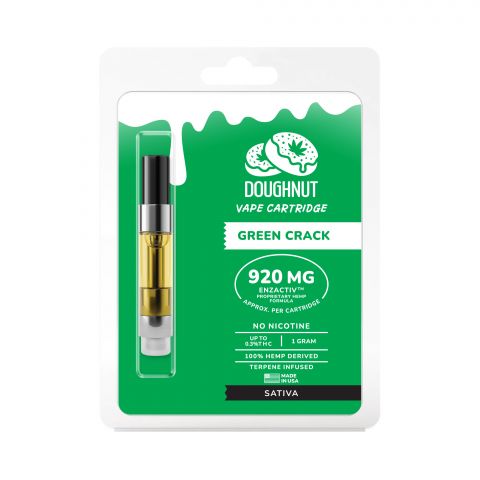 On sale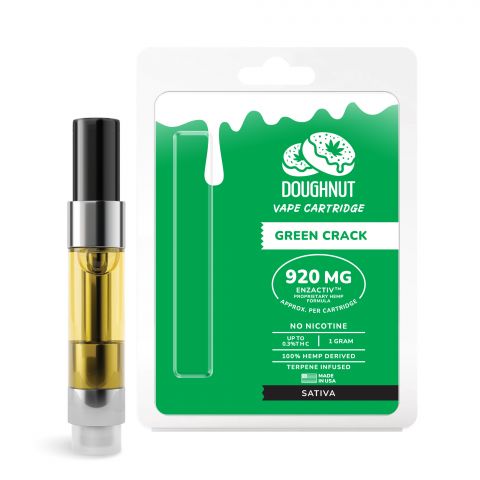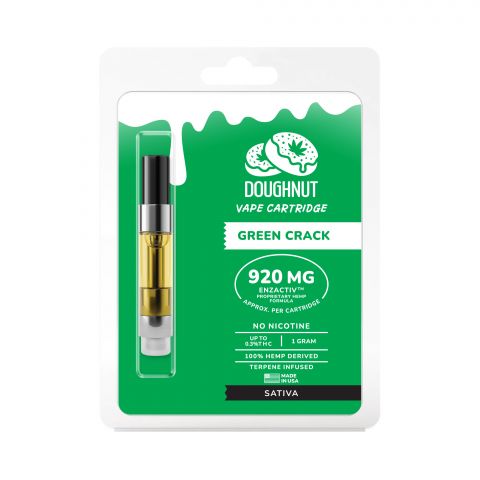 Green Crack Cartridge - CBD & Enzactiv - Doughnut - 920mg
Product Info
When you can't reach the Delta-8 THC, make for the Doughnuts instead. Doughnuts Active CBD Vape Cartridges, now in Green Crack, blend the sweet and sugary flavor of everyone's favorite breakfast treat with Enzactiv, a proprietary hemp formula not unlike Delta-8 THC. Get your buzz started the right way, with the sweet smell of the corner bakery and a Green Crack. With Doughnuts Active CBD Vape Cartridges, now in Green Crack, the morning will never be the same.
What is Enzactiv? It's our all-new proprietary hemp formula that feels just like Delta-8 THC. It's an all-natural buzz built on a foundation of cannabidiol grown from hemp farms right here in the USA. With Enzactive, you'll feel relaxed, calm, and collected. There's no paranoia and no anxiety, just the smooth, all-natural buzz that comes from hemp — and doughnuts!
Doughnuts Active CBD Vape Cartridges pack a powerful punch thanks to a Delta-8-like experience that will leave you buzzin' for more. It's a proprietary cannabinoid blend, and much like its namesake Delta-8 THC, it offers you a bold and buzzy way to experience the world. But with Active CBD, we're offering something more — Green Crack, a strain that buzzes higher. It's a potent sativa strain that leaves you feeling upbeat and euphoric all day long. Green Crack is a daytime sativa with a tangy, fruity aroma that will get you moving and help you fight those work-week blahs. 
Now in Green Crack, doughnuts Active CBD Vape Cartridges contain Enzactive, the only hemp-based formula with a buzz for when Delta-8 is out of reach. As with all of our products, it's lab-tested and approved for your safety — guaranteed to be a pure, unadulterated product with no synthetics. Our Disposable Vaping Pens contain no Vitamin E Acetate whatsoever, and all of our lab results are available online for inspection. But hurry, before they're all gone!
Active Ingredients
Active CBD Products are pure, all-natural, hemp-infused cannabinoids known especially for their proprietary hemp blend. Users enjoy these products in myriad forms, including gummies and vapes. Besides the blend, users enjoy Active CBD Products for their many other benefits too.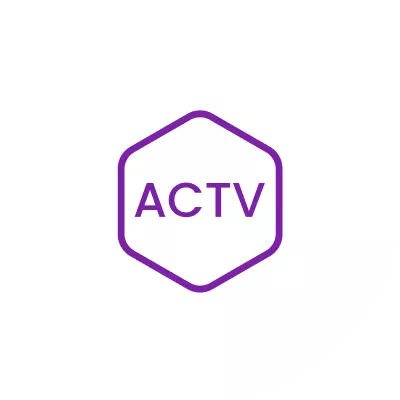 Frequently Asked Questions
Why do my vape cartridges clog?
Clogged vape cartridges result from excess vapor condensing along the walls of the inner cartridge and solidifying into oil, thus blocking the airways.This can be prevented by continually pulling cool air through the cartridge with every puff. The extra amount of air will keep the cartridge clean and clear, preventing blockages in the future. It is the best way to care for your vape products.It can also cause blockage if you pull your vape too hard. Try pulling a bit softer to prevent flooding and blockage.
Why does the taste of my cartridge smell burned?
All of our cartridges are stored and shipped upside down to prevent leaks. Air will surround the cotton wick in many cases as a result. The cartridge must be flipped and primed before the first use, otherwise the cotton will burn before the oil, causing a burnt taste and odor. Burnt flavors and smells should disappear within 15 puffs or so if you do have one.
How does Enzactiv work?
When inquiring about Doughnuts with Active CBD, you probably want to know what Enzactiv is. Enzactiv is a proprietary blend that is used for Active CBD. Naturally, this leads to the next question - what is Enzactiv? That's a great question. Our hemp supplement is called Enzactiv. You can think of it as your buzz away from the buzz. It's an all-natural compound that feels just like Delta-8 THC.Enzactiv is an all-natural buzz from hemp farms in the United States that is based on cannabidiol. The buzz you get from hemp is as smooth, all-natural, and relaxing as our Delta-8 THC. No paranoia, no anxiety, just the all-natural buzz naturally derived from hemp. The Doughnut brand of products includes Enzactiv.
How does Neutractiv(TM) work?
The Neutractiv(TM) Active CBD blend is a new form of Active CBD that is the perfect motivational dose to get you through the day. Learn all about Raw Cannabinoid Active CBD Gummies, Vapes, Capsules, and more with our new Raw Cannabinoid Active CBD product line. What does it do? Let's find out. NeutractivTM is an activating blend of plants-derived extracts from U.S. grown hemp plants and invigorating isomer structures. The magic happens when this all-natural hemp product is combined.When you don't have access to these cannabinoids, consider it Delta-10 THC or Delta-8 THC. You know what we mean: hemp cannabinoids aren't available in certain states. No matter where you are in the world, even if Delta-10 or Delta-8 is not available to you, motivation, energy, relaxation, buzz, and creativity can still be right at your fingertips.
Where is Active CBD legal?
Recently Viewed