Original Gummies - THCA, D8 Blend - 1500mg - Fresh
Product Info
Introducing Fresh's Original Gummies – a tribute to timeless comfort, potency, and unmatched convenience. Elevate your wellness voyage with these remarkable gummies, painstakingly crafted to deliver a potent 1500mg blend of premium THCA and D8, capturing the very essence of a classic experience.
Derived from the heart of classic candy comfort, our gummies present a harmonious union of THCA and D8, infusing potential therapeutic advantages with a dash of nostalgia. The seamless amalgamation of these compounds curates an encounter that tends to both the body and the mind.
Savor the convenience offered by the user-centric design of the Original Gummies. With a robust 1500mg blend of our premium THCA and D8 fusion, these gummies ensure a consistent and enduring experience. Their inconspicuous packaging ensures effortless integration into your routine, delivering a touch of wellness precisely when you need it.
At CBD Mall, quality serves as our cornerstone. Our Original Gummies undergo rigorous third-party lab testing, guaranteeing a product that adheres to the loftiest standards of purity and safety. Built on a foundation of transparency, each gummy extends an experience defined by unparalleled quality.
Strength Per gummy
150mg/gummy
Tapioca Syrup, Corn Syrup, Water, Pectin, Citric Acid Natural Flavors, Fruit and Vegetable Extract (Color), and Hemp-derived THC extract (Delta-8 extract, Tetrahydrocannabiphorol "THCA" extract).
Active Ingredients
THCA, which stands for tetrahydrocannabinolic acid, serves as the antecedent to the well-known THC. While it lacks psychoactive effects on its own, it transforms into THC, the renowned psychoactive agent, through a process called decarboxylation. This process entails heating the compound, leading to a chemical transformation. Decarboxylation can be achieved by methods such as igniting a pre-roll or vaporizing vape oil.
Delta 8 Products are pure, all-natural, hemp-infused cannabinoids known especially for their buzz. Users enjoy these products in myriad forms, including gummies, vapes, and oils. Besides the buzz, users enjoy Delta 8 Products for their many benefits too.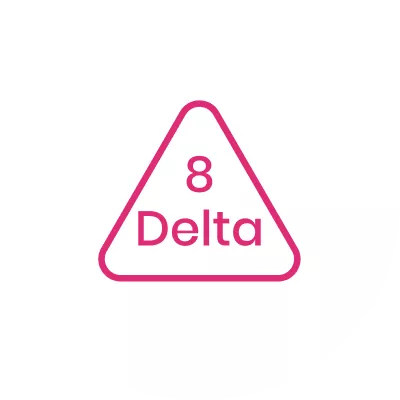 Customers Reviews
There are no reviews yet. Be the first to write a review!
Frequently Asked Questions
Do delta 8 edibles make you high?
People who have tried delta 8 THC edibles report that the high is more subdued than that of delta 9 THC edibles. People may feel tired, relaxed, or hungry after consuming delta 8 THC edibles. The effects on the body are more significant than those of d9 THC, and users report feeling more focused.
Do delta 8 gummies make you high?
While it gets you high, it is a milder buzz than Delta 9 THC. Furthermore, Indica strains of marijuana evoke euphoric effects but not sleepiness. Heating Delta 8 THC and Delta 9 THC ignites the same metabolic process. In other words, statistically they are identical except Delta 8 THC does not give you the same high.
Exactly what are delta 8 gummies?
Gummies that contain Delta-8 have a slow onset and a lengthy duration. At first, you might feel like the gummies aren't doing anything, so you might be tempted to take more than you should. Nonetheless, before you know it, you will be buzzed or engulfed in a sea of wellness while feeling buzzed as well.
How safe are delta 8 edibles?
Both delta-8 and delta-9 are medically harmless. Since there is no regulation, there is no safe amount (from a legal standpoint), but from a practical standpoint, there is no safe amount.
What makes delta 8 gummies so special?
Delta 8 Gummies cannot be compared to Delta 8 vape oils. The gummies release gradually but last up to 8 hours. The best way to take Delta 8 gummies is slowly. Delta 8 gummies are not perfect for everyone. Taking capsules or oil is different from eating edibles. Most of you want help with gummies, while others want a more laid-back atmosphere with delta 8 thc. Make sure you know what to expect.
Recently Viewed