In the years since delta 8 was legalized at the federal level, the compound has certainly gained gargantuan popularity. The hemp giant has gained widespread acceptance in some states, but not all. Some states have ignored the federal consensus and kept their hemp laws restrictive. So, is delta 8 legal in Texas?
Delta 8 is legal in Texas, for now. The politics of hemp can be complex, but we're here to break things down for you!
Delta 8 in Texas
Delta 8's legality in the state of Texas is a tricky topic. The compound is legal for now due to a series of legal proceedings that we will get into shortly. For now, hemp seems to be one of the only viable options for Texans to enjoy the benefits of cannabis legally.
Recreational marijuana remains strictly illegal in the Lone Star State. Possession of up to two ounces is considered a class B misdemeanor. It is punishable by up to 180 days in prison and a fine of up to $2,000, sometimes even both. That said, some more liberal municipalities across the state have enacted legislation decreasing that punishment, but at the end of the day, marijuana is forbidden in the state.
Following federal legislation and Texas's subsequent state legislation a few years back, retail stores throughout the state began stocking up on delta 8 and other cannabinoid products. With a recent legal battle regarding the compound's legality in the state, the future of hemp-based products in Texas is a coin toss.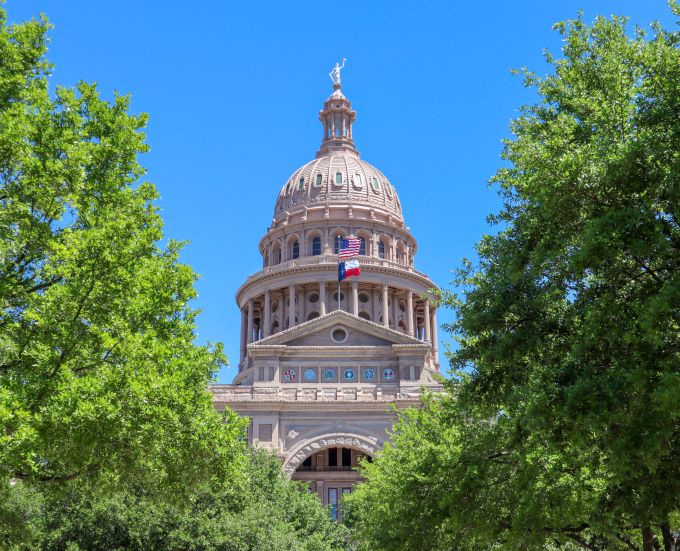 Is Delta 8 Legal In Texas?
The legal landscape of delta 8 undergoes constant change in Texas. While some legislators are working hard to criminalize the compound and restore the state's former laws, others are battling these blows with the same vigor. So, is delta 8 legal in Texas? As of right now, delta 8 is temporarily legal to purchase, possess, sell, and distribute in the state of Texas. But that may not be the case forever.
The United States government's federal ruling on hemp is heavily reflected in Texas's own state law. In particular, Texas follows the Farm Bill, which federally legalized hemp and all its derivatives.
The Farm Bill made a distinction between marijuana and hemp. In spite of the fact that there are no real scientific differences between the compounds, they are classified differently under the law. THC content is the main legal difference between the two types of cannabis.
Cannabis plants that contain more than 0.3% THC are considered marijuana, whereas cannabis plants with less than 0.3% THC are considered hemp. Therefore, cannabis plants are legally distinguished by their THC content. Marijuana is illegal federally and in Texas, but hemp is legal. Because delta 8 is sourced from hemp and not marijuana, it is technically also legal in both.
In 2019, Texas introduced Chapter 121 of the Texas Agriculture Code, requiring the state to develop a plan to monitor and regulate industrial hemp production. They also added Chapter 122 of the Texas Agriculture Code, which established licensing and testing requirements for hemp.
According to Chapter 443 of the Texas Health and Safety Code, established by House Bill 1325, Consumable Hemp Products are also allowed in Texas if they do not contain more than 0.3% delta-9-tetrahydrocannabinol. THC, including delta 8 at higher concentrations, remains a Schedule I controlled substance.
A federal Drug Enforcement Agency (DEA) update in August 2020 removed hemp from its list of controlled substances if its THC content wasn't more than 0.3%.
So Delta 8 Is Clearly Legal in Texas, Right?
Things aren't quite as simple as they seem. As it turns out, "is delta 8 legal in Texas?" is not as easy to answer as you might think. Here's where things get a little complicated.
As written in the Houston Chronicle, "any time the DEA changes its rules on controlled substances, individual states are allowed to choose whether or not to adopt the changes or stick with their existing rules." In January of 2021, the Commissioner of Texas Department of State Health Services (DSHS) rejected the DEA's changes in favor of Texas's existing THC restrictions, ending delta 8's legality in the state.
The Texas Register quietly declared delta 8 to be a Schedule I controlled substance that same January. This decision resulted in quite a bit of controversy since there was no public hearing and no information provided in advance. In particular, it led Texas-based companies to file a lawsuit against the state and ask for a temporary restraining order on the ban.
Note that this document was submitted as an image rather than a PDF or HTML file, rendering it virtually unsearchable. It is not searchable on the Texas Register by using any relevant terms - it would take almost a hundred pages of the document to find it by hand. In addition, the DSHS held a public hearing that no one attended because they failed to inform the public and industry stakeholders.
In introducing this addition to the law, the state went out of its way to keep it quiet. Even though the temporary restraining order request was initially denied, it was eventually granted in November of 2021. The final hearing for the case was scheduled for January 2022, but it was canceled. Currently, there is no hearing schedule, and it could be months or even upwards of a year before the next court date.
Thanks to the lawsuit's temporary restraining order, delta 8 remains legal to buy and sell in Texas for now. Its future, however, seems to be up for grabs.
Shipping Delta 8 Products to & from Texas
Further complicating matters, Texas even has a Consumable Hemp Program outlining rules and regulations for those who wish to sell hemp products in Texas - which presumably include THC. Following a positive ruling, manufacturers and distributors looking to sell hemp-derived cannabinoids in Texas will need to meet the following criteria.
A licensing and registration process is used in Texas for consumable hemp manufacturers and distributors as well as retail sellers of Consumable Hemp Products (CHPs).
A Retail Hemp Registration is required if a seller:
Sells CHPs and doesn't many any changes (including adding names or company logos) to hemp products or their packaging.
Sells CHPs online (with no storefront locations) and doesn't make any changes to the product or its packaging.
So, if you are selling hemp products in Texas but are not manufacturing or packaging them yourself, then you will need a Retail Hemp Registration.
A Consumable Hemp Product License is required if:
CHPs are manufactured, which includes the following activities: preparing, compounding, processing, packaging, repackaging, labeling, and relabeling.
A retailer white labels or private labels CHPS. This is when a business puts their own packaging on a product that was manufactured by another company.
CHPs are sold in wholesale.
Applicants are required to submit fingerprints and background checks in addition to three major documents:
A completed Federal Bureau of Investigation Authorization Form
A Hemp Property Owner Letter
A legal description of the property with accompanying coordinates
USPS regulations clarify that hemp products can be legally and safely sent through the postal service within the United States. In other words, if you're a customer looking for a delta 8 fix online, you're in good hands! When it comes to finding high-quality THC in Texas, as a matter of fact, online stores are your best bet.
Things to Consider When Buying Delta 8 in Texas
Whether you are buying delta 8 in Texas or anywhere else, online stores are always your best bet. It is convenient to explore delta 8 products from home, as opposed to driving around the second largest state in the United States looking for a reliable source. Online stores also tend to have more variety, more legitimacy, and most importantly, lab tests available.
Here are some things to watch out for if you're planning on getting your delta 8 in person.
Purity & Potency
In the same way that you would with any other product that goes in your body, you should always know exactly what's in your delta 8 products. As hemp products aren't closely regulated by the government, cannabinoid companies often make up their own safety and purity standards.
It's best to buy from companies that third-party lab test their products to ensure that there are no pesticides or carcinogens absorbed by the hemp leaf used in your products, and to ensure the quality and potency of the product is what it claims to be. It's important to remember that testing is only part of the picture; legitimate companies committed to quality and safety will usually be able to provide you with copies of their lab tests.
Oftentimes, cannabinoid companies have entire sections of their websites dedicated to test results, which makes buying online handy. Consider looking elsewhere if you're thinking of buying from a company that doesn't perform lab tests.
Reputation
Reviewing a company online is one of the easiest ways to get a sense of how it operates in today's world. When it comes to quality of products, reasonable pricing, and fast shipping, a well-established company will have glowing customer reviews.
Keep an eye on how their customers respond to their services. What are they saying about the products? Is the company responsive to customer comments or complaints? How satisfied are their customers with their overall experience?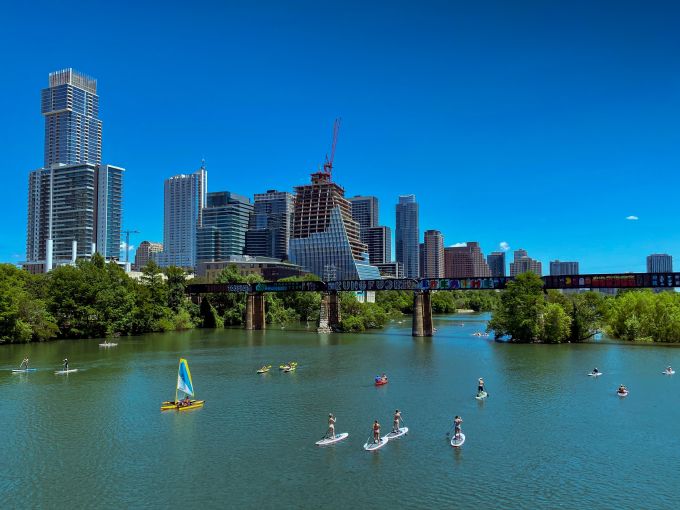 Where To Find Delta 8 in Texas
As you now understand delta 8's legal status throughout the Lone Star State, you may wonder where you can legally and safely buy the goods. Buying cannabinoids online, including delta 8, is the most convenient way to get them. However, that doesn't mean it's impossible to find good-quality, safe delta 8 in person.
Here are a few delta 8 retailers in major metropolitan areas throughout the state, so that no matter whether you're singing alone to Willie Nelson or Travis Scott, you can do so safely (and with a great buzz).
J Heart was founded "with a culture of hard work, respect, support and commitment to our core value: helping others." And with high-quality products and a friendly staff, this store is doing just that!
With in-store shopping and local deliveries, this store is the perfect pit stop for anyone looking to score some good quality delta 8 in H-Town. Partnering with the best cannabinoid brands in the country, the Houston Cannabis Club is determined to end the hemp stigma and give people the help they need.
Called "the best place to get delta 8 in Dallas" by its reviewers, this store has enticing special promotions, a kind and knowledgeable staff, and a hands-on owner dedicated to the hemp life.
Are Other Hemp-Derived Cannabinoids Legal in Texas?
When it comes to hemp-derived cannabinoids, Delta 8 may be a crowd favorite, but it's not the only one. There are many relatives of the cannabinoid that have distinct properties and benefits; but are they legal in Texas?
If you're familiar with hemp-derived compounds like mild delta 10 or even stronger compounds like HHC and THCO, you'll be pleased to hear that they're also legal in Texas for now.
As long as they comply with the 0.3% THC cap enforced by the Farm Bill, all of these cannabinoids are completely legal in the state of Texas… for now.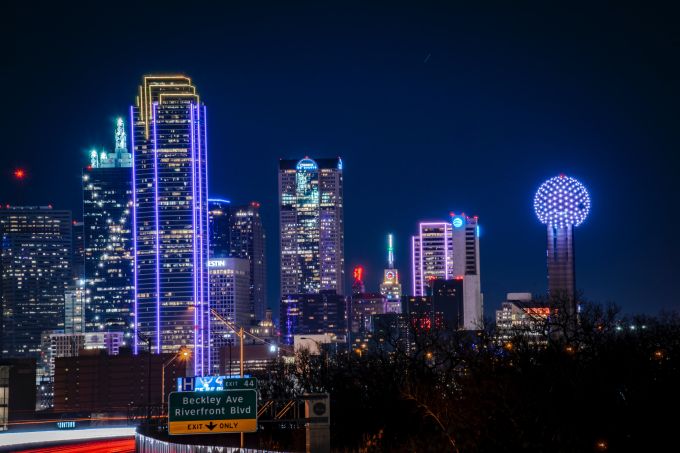 Texas Cannabis Market Grows With Delta 8 & Medical Marijuana
Recreational cannabis is illegal in Texas. It is surprising, however, that medicinal marijuana is not. Medical cannabis is a booming industry in the Lone Star State, but what does the introduction of legal delta-8 products mean for the state's cannabis market?
Texas Medical Cannabis Laws
Texas has a Compassionate Use Program (CUP) that allows certain physicians to prescribe low THC cannabis for medical purposes. According to the Texas state government, "Low THC comes from the plant Cannabis Sativa L. All parts of the plant and any resulting compounds, salts, resins, oils, and derivatives that contain no more than 0.5% by weight of THC are considered Low THC."
The medical cannabis laws in Texas limit its use to swallowing, not smoking, a prescribed dose of low THC. Medical cannabis was first legalized in Texas six years ago, but House Bill 1535 expanded the list of qualifying conditions to include cancer and post-traumatic stress disorder in 2021.
By law, Texas's Compassionate Use Program is limited to patients with the following qualifying conditions:
Epilepsy
Seizure disorders
Multiple sclerosis (MS)
Spasticity
Amyotrophic lateral sclerosis
Autism
Cancer
An incurable neurodegenerative disease
PTSD
Low THC cannabis prescriptions are available in Texas if the following conditions are met:
They are a permanent resident of Texas.
They have one of the medical conditions listed above.
A CUP registered physician prescribes it; the physician, however, must first determine if the benefits outweigh the risks.
Prescriptions have no age limit. To get a prescription, however, patients under 18 may need a legal guardian.
The patient or legal guardian can get their prescribed product at any licensed dispensary once they have been granted a prescription. A patient's ID along with their last name, date of birth, and last five digits of their Social Security Number are also required.
Texas Medical Cannabis Vs. Delta 8
So, what does delta 8 mean for people who don't qualify for Texas's medical cannabis program? Even though delta 8 differs chemically from delta 9 due to the placement of a carbon atom, researchers and scientists consider it to be a milder version of delta 9. Consequently, it has most of the same benefits and qualities as the compound, albeit to a lesser extent.
Delta 8 products are available in Texas without a prescription or card. With a valid ID, you can legally walk out of any store or order online and enjoy delta 8's buzzy effects. 
Is Delta 8 Legal in Texas: Final Thoughts
So, is delta 8 legal in Texas? For now, it is. Regardless of the complex and uncertain nature of the delta 8 Texas scene, we are hopeful that the lawsuit brought forth by delta 8 companies against the state will be successful.
With illegal recreational marijuana and medicinal cannabis restricted, delta 8 and other hemp-derived compounds may be Texans' only way to reap the benefits of cannabis, but they face an uncertain future.
As of now, you can purchase and consume delta 8 products in Texas, but be vigilant for dubious products.