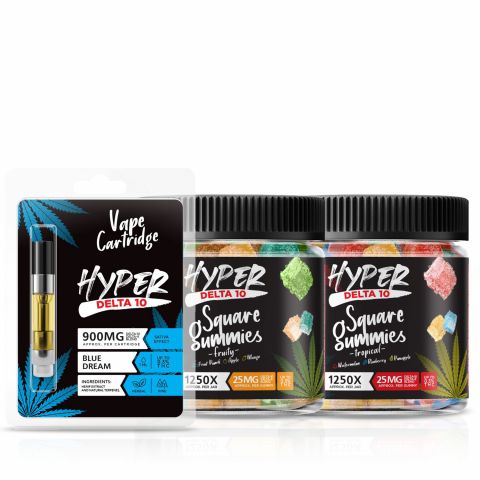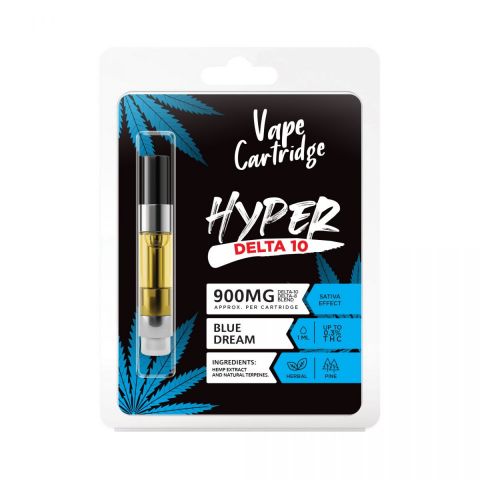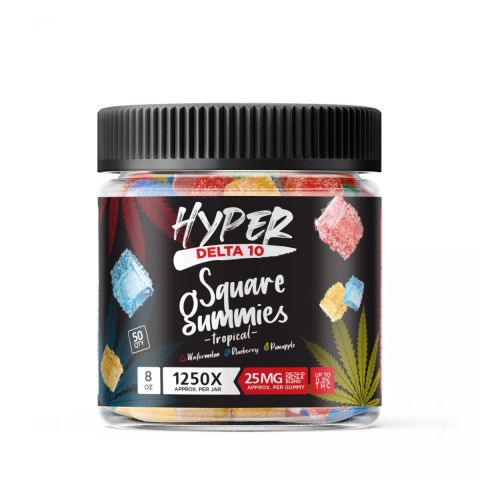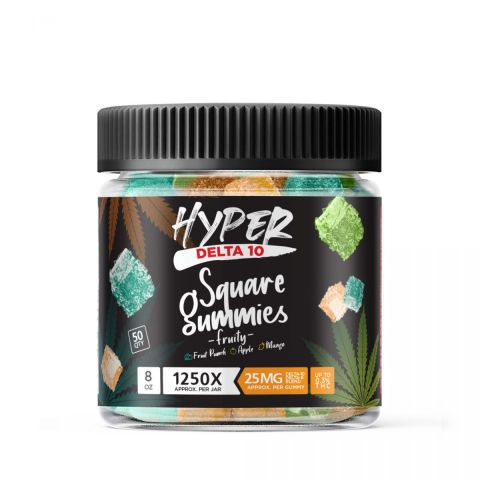 On sale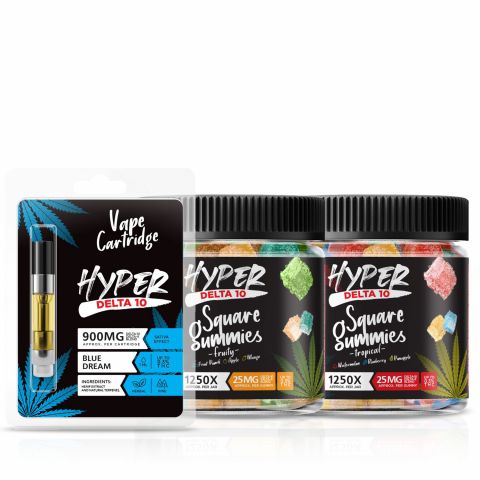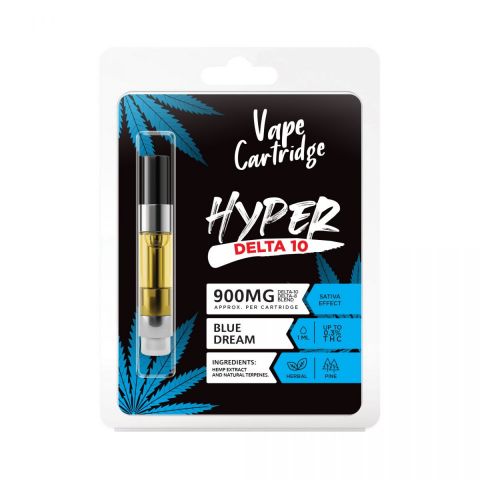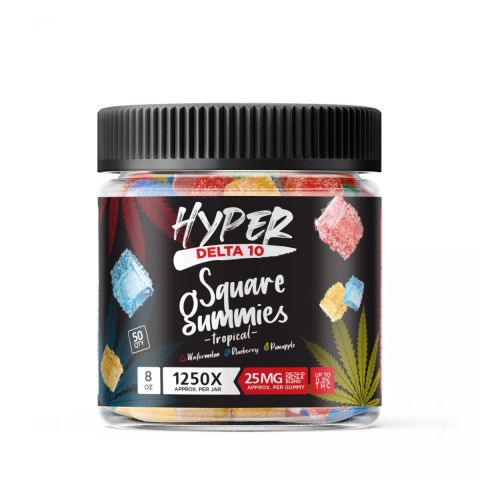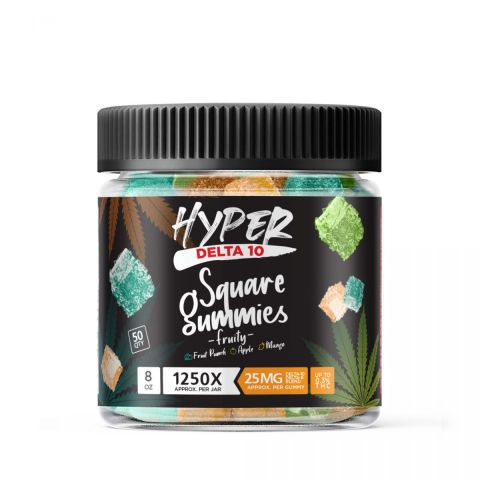 Delta-10 THC Focus Mood 3 Pack Bundle
Product Info
The D10 Focus Bundle helps you focus, wake up your senses, and recharge your battery. It's easy to stay energized by grabbing a bite of the delicious Delta-10 Square Gummies in Fruity Mix. Wake up your day by vaping up with the Hyper Delta-10 THC Vape Cartridge in delicious Blue Dream. Use Delta-10 THC every day to start your day on the right foot.
What's included in the CBD Focus Mood Bundle:
Hyper Delta-10 THC Vape Cartridge - Blue Dream - 900mg
Hyper Delta-10 THC Square Gummies - Fruity Mix - 1250X
Hyper Delta-10 THC Square Gummies - Tropical Mix - 1250X
Hyper Delta-10 THC Vape Cartridge - Blue Dream
Hemp Extract and Natural Terpenes.
Hyper Delta-10 THC Square Gummies 
Light Corn Syrup (Corn Syrup, Salt, Vanilla) Cane Sugar, Water, Gelatin, Citric Acid - ADM, Sorbitol Powder, one or more of the following U.S. Certified Colors: Red #40, #3, Yellow #5, Blue #1, #6, and #2 and/or Titanium, Dioxide, Modified Starch, Vegetable Gum, Acid. Less 1/10 Percent Sodium Benzoate, Potassium Sorbate (As Preservatives), Natural & Artificial Flavors, Sweetener (Maltodextrin, Sucralose), Organic Hemp Oil, 100% Coconut MCT Oil, Propylene Glycol, Propylparaben (Preservative), and Hemp Extract.
Active Ingredients
Delta 10 Products are pure, all-natural, hemp-infused cannabinoids known especially for their  energizing and focus-inducing effects. Users enjoy these products in myriad forms, including gummies and vapes. Besides the energizing properties, users enjoy Delta 10 Products for their many other benefits too.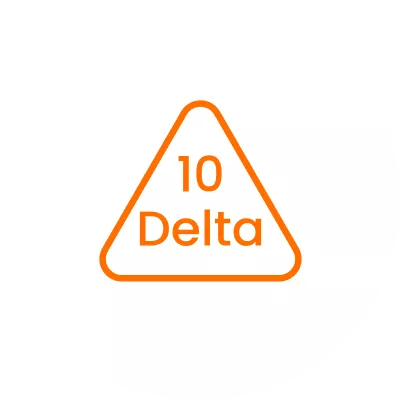 Customers Reviews
There are no reviews yet. Be the first to write a review!
Frequently Asked Questions
How does delta 10 work?
The cannabinoid Delta 10 may help you feel focused, energetic, and creative. Each person may experience different effects.
Does delta 10 make you high?
You will feel mild euphoria after taking Delta-10 THC products. Although Delta-10 is similar to both Delta-8 THC and Delta-9 THC, it is chemically distinct and thus has different effects.
Can you use delta 10 safely?
Just like CBD, Delta-10 THC is a hemp product grown on non-GMO farms in the U.S. Although it shouldn't be used excessively, it is perfectly safe to take every day as part of a daily regimen. Furthermore, Delta-10 THC is rigorously tested by independent third parties. Our hemp products are the safest on the market today, and we're the most transparent company.
Are you allowed to use delta 10? Is delta 10 legal?
The Farm Bill of 2018 was passed by Congress and signed by the President in 2018. As a result of that bill (which then became law), hemp and all of its compounds and derivatives are now legal. CBD and Delta-10 THC from hemp are now legal, as well as CBD from hemp. A variety of the compounds found in hemp, including this one, are restricted or illegal in some states (as is the case with cannabis). Contact our customer support team if you have questions about Delta-10 in your state.
Delta-10 THC is a synthetic cannabinoid, isn't it?
NO! NO, NO, Hemp naturally contains Delta-10 THC. It occurs in small amounts, so we have to use specific processes to make it. However, all of our Delta-10 is made from natural hemp compounds.There are small amounts of delta-10 THC in the hemp plant. We use a natural cannabinoid process called isomerization.
Recently Viewed