Pineapple Express HHC THC Vape Pen - Disposable - Artisan - 900mg
Product Info
Artisan HHC Disposable Vape Pens, now in 900mg, offer you the newest hemp-derived cannabinoid built on a foundation of CBD. It's a buzz-worthy cannabinoid along the lines of Delta-8 THC but much more subtle and smooth. These handcrafted disposable vape pens were built to perfection by hemp artisans, designed for experienced users, as well as novices, to give you a buzz that transcends your mind and body. And now, with Artisan HHC Disposable Vape Pens available in Pineapple Express, you can craft an experience like no other.
Made by skilled artisans who study the hemp plant day and night, HHC is a perfect cannabinoid. HHC or hexahydrocannabinol is the newest hemp-based cannabinoid that's been rediscovered over the past year. Built off of a foundation of CBD, this close cousin to Delta-8 THC offers you one of the few legal highs that keeps you awake and alert while keeping you chill and relaxed. Only the skilled hands of artisans could craft a cannabinoid like HHC.
And now you can enjoy 900mg of Artisan HHC in a disposable vape pen with Pineapple Express. You can embrace the carefree, soothing pleasure of this exciting new cannabinoid while experiencing the distinct flavors of apple, cedar, and pineapple. It's an all-new cannabinoid experience at extreme levels. Enjoy the hard-hitting combination of Trainwreck and Hawaiian that turns any afternoon into a productive one. Take a walk on the clouds and feel relaxed with Pineapple Express.
Artisan HHC Disposable Vape Pens offer you 900mg of the purest, cleanest, and safest HHC on the market today. We send all of our cannabinoids to third-party testing sites to confirm there are no impurities and offer certificates of authenticity online for your inspection. If you're looking for a new way to enjoy hemp — a handcrafted cannabinoid made by experts — try new Artisan HHC Disposable Vape Pens in Pineapple Express. It's handcrafted perfection made by people who understand hemp.
Active Ingredients
HHC Products are pure, all-natural, hemp-infused cannabinoids known especially for their strong buzz. Users enjoy these products in myriad forms, including gummies and vapes. Besides their buzz, users enjoy HHC Products for their many other benefits too.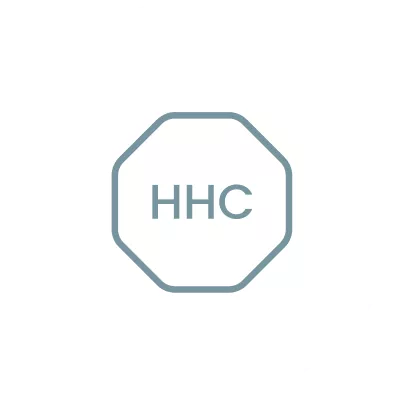 Frequently Asked Questions
What is the best way to change the temperature on my vape pen?
Three presses of the button will change the temperature. Keep doing this until you reach the temperature you desire.
How do HHC vape pens differ from Delta 8 vapes?
While both delta 8 and HHC carts provide you with a buzz, they differ structurally. HHC is THC without double bonds, which means that in plain English, HHC still gives you a pretty good psychotropic high, but it's much milder than delta-8-thc products. When comparing hhc cartridges and delta 8, your hhc cartridge will produce a much milder, lower-key buzz than anything infused with delta 8. It still depends on your own personal preference which compound you use since each has its own benefits.
Do drug tests detect HHC vape pen use?
Anecdotal evidence suggests that HHC may be the only cannabinoid that can evade drug tests since it is still a relatively new compound.
Is HHC Legal?
Thanks to the 2018 farm bill, HHC is legal at the federal level. But the fun might not last.
Does hhc get you high?
A high, or buzz, is caused by HHC. HHC, on the other hand, is less potent than THC or Delta-8 THC. It is a mild cannabinoid that is suitable for new hemp users.
Recently Viewed