Distillate Oil Syringe - Delta 8 - 1000X - Chill Plus
Product Info
Whether you want to refill your vape cartridges or take powerful dabs from the syringe, Chill Plus's Delta 8 Distillate Oil Syringe is the best and most efficient way to enjoy refined cannabinoids. Complete with instructions on heating and usage, this product contains 1,000mg (or 1g) of high potency, high-quality delta 8 THC. 
The distillate comes with a detachable syringe for an easy, mess-free application. Dab it, refill your cart, add it to your cooking, or drop it under your tongue for a sweet delta 8 buzz that will last as long as you let it. Remember, you need to heat up these products before using them. Your cartridge battery, hot dab rig, or cooking will take care of that! If you're using this product sublingually, be sure to heat it up with a lighter before putting it in your mouth; it doesn't have to be burning hot, just hot enough to get the waxy goodness ready to go down smoothly. 
Try Chill Plus Vape Distillate Oil today and see how Delta-8 distillate is head and shoulders above the rest. All of our delta 8 vape oil products are lab tested for quality and safety, guaranteeing you a high-quality product that you can trust. But you need to hurry up and purchase yours today because this is one high we can guarantee won't last!
Highlights of the Delta 8 THC Distillate Glass Syringe include: it has 1,000 mg of Delta 8 THC, it is Farm Bill compliant, it is great for dabbing, refilling carts, cooking, or sublingual application. Moreover, here at CBD Mall, all of our products are third-party lab tested for safety and efficacy. Please note this product is not made for bodily injection.
Please note that delta 8 distillate will cool quickly, becoming an unusable solid. It is also very sticky, so use gloves when handling it! You can heat delta 8 distillate in a hot water bath for 10-15 minutes. If you choose this method, submerge in water with the cap on and then disperse quickly.
You can heat delta 8 distillate with a hair dryer. When doing so, remove the cap first and always wear gloves. NOTE: Delta 8 may overflow with this method. Be prepared to collect overflow quickly.
No matter what, always store in a cool, dark place.
IMPORTANT: Delta 8 distillate needs excellent care. Always follow the directions carefully!
Active Ingredients
Delta 8 Products are pure, all-natural, hemp-infused cannabinoids known especially for their  buzs. Users enjoy these products in myriad forms, including gummies, vapes, and oils. Besides the buzz, users enjoy Delta 8 Products for their many benefits too.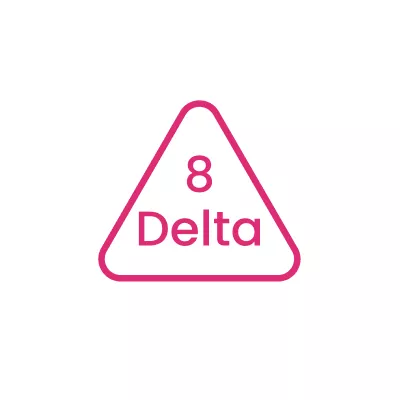 Frequently Asked Questions
Is delta 8 wax edible?
Eating delta 8 wax will have no major dangerous effects on the body. That said, it will also cause no psychoactive effects and it's likely to be a highly unpleasant experience. Eating delta 8 wax is not recommended. 
Are delta 8 dabs safe to consume?
Yes! Delta 8 dabs from reputable manufacturers like CBD Mall are safe to use. The only thing to consider in order to create a safe and pleasant experience with dabs is dosage. It's advisable to start slow and build your tolerance up to avoid adverse effects. 
How strong are delta 8 dabs?
Delta 8 dabs are one of the strongest and most concentrated forms of delta 8 THC. 
Can you explain delta 8 to me?
It is a derivative of and a close cousin to Delta-9 THC. Like its more famous cousin, Delta-8 will provide a legal, psychoactive high, although it will be much smoother and subtler. There are a wide range of products that contain Delta-8 THC, including edibles, oils, concentrates, and more.
Do you think delta 8 is safe?
Indeed! It's completely safe to use Delta-8. It is safe and gives a subtle, but smooth high. We continue to learn about this novel cannabinoid every day. Due to its hemp origins, delta 8 thc cannot harm you. Moreover, CBD Mall's products are thoroughly tested by third parties, so you can be sure you are using only the best delta-8 thc.