Milk Chocolate Coned - Delta 8 - 600mg - Packwoods
Product Info
Get ready for an extraordinary collaboration as Packwoods teams up with Baked Bags to introduce an unmatched innovation in the realm of Delta 8 Edibles. Introducing the Packwoods Coned Edibles, a miniature masterpiece housed within a sugar cone that revolutionizes the Delta 8 experience. Indulge in the perfect amalgamation of flavor and potency as each cone reveals a tantalizingly potent Delta 8 dessert filling.
Embark on a journey of relaxation and delight as you relish the Packwoods Coned Edibles, each containing a substantial 100mg of Delta-8 THC. With every delightful nibble, you'll find yourself enveloped in a realm of tranquility, as your mind and body seamlessly embrace a euphoric voyage.
Awaken your senses with the Packwoods Coned Edibles in Milk Chocolate flavor, unearthing a realm of pure delight that redefines the art of edible consumption. With each bite, you'll set forth on a voyage where the luxurious essence of milk chocolate waltzes in perfect harmony with the euphoric allure of Delta 8. A symphony of flavors that vows to tantalize your taste buds and elevate your journey to unparalleled heights.
To ensure your peace of mind, each Packwoods Coned Edible undergoes rigorous third-party lab testing. This meticulous scrutiny guarantees that every cone stands as a testament to purity, quality, and safety, granting you the freedom to explore the Delta 8 experience without a hint of hesitation.
Confectionery filling [sugar, vegetable oil (palm kernel and hydrogenated palm kernel oils), whey powder, whole milk solids, nonfat dry milk solids, soy lecithin (emulsifier), salt, and artificial flavor], green confectionery filling [sugar, vegetable oil (palm kernel, hydrogenated palm kernel, and cottonseed oils), nonfat dry milk, milk, glyceryl lacto esters of fatty acids, yellow #5 lake, soy lecithin, blue #1 lake, salt, and artificial flavor], cookie pieces [sugar, enriched wheat flour (wheat flour, niacin, reduced iron, thiamin mononitrate, riboflavin, folic acid), vegetable oil, (palm,soybean and palm kernel oils, cocoa (processed with alkali) , invert sugar, corn flour, soy lecithin, chocolate corn starch, salt, leavening (baking soda, monocalcium phosphate), natural flavor, and whey], cones, [bleached enriched flour (wheat flour, niacin, reduced iron, thiamine mononitrate, riboflavin, folic acid), brown sugar, vegetable shortening (canola and/or modified palm and/or soybean oils), oat fiber, salt, soy lecithin, natural flavor), and hydrogenerated coconut oil, and natural flavor. Contains: milk, soy, wheat.
Active Ingredients
Delta 8 Products are pure, all-natural, hemp-infused cannabinoids known especially for their buzz. Users enjoy these products in myriad forms, including gummies, vapes, and oils. Besides the buzz, users enjoy Delta 8 Products for their many benefits too.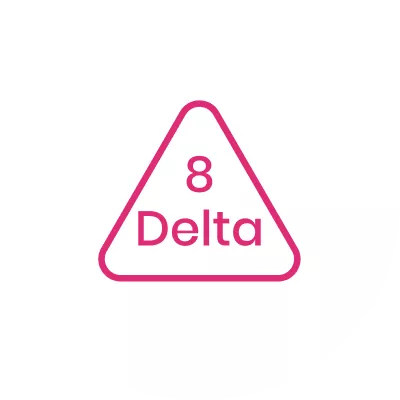 Customers Reviews
There are no reviews yet. Be the first to write a review!
Frequently Asked Questions
Do delta 8 edibles make you high?
People who have tried delta 8 THC edibles report that the high is more subdued than that of delta 9 THC edibles. People may feel tired, relaxed, or hungry after consuming delta 8 THC edibles. The effects on the body are more significant than those of d9 THC, and users report feeling more focused.
How safe are delta 8 edibles?
Both delta-8 and delta-9 are medically harmless. Since there is no regulation, there is no safe amount (from a legal standpoint), but from a practical standpoint, there is no safe amount.
What is the duration of a delta 8 edible?
The effects of delta-8 THC on your body last for up to five hours, but metabolites persist for up to 90 days. Most tests do not detect metabolites for more than a few days. Chronic users may still test positive after 30 days.
What is the onset time of a delta 8 edible?
Delta 8 edibles take time to kick in depending on a number of factors. Body size and metabolism must be taken into consideration. In addition, the tolerance level can also be affected by previous usage of the cannabinoid. The effects of D8 edibles usually begin to take effect after 30 minutes. There is no guarantee that an edible will break down and release cannabinoids right away.
Can drug dogs detect delta 8 edibles?
Some terpenes can be detected by drug dogs. If terpenes are present in the product, they may be notified. Dan Hayter, former lead dog trainer for the military's drug teams and founder of K9 Global Training Academy, says edibles can be tracked.
Recently Viewed