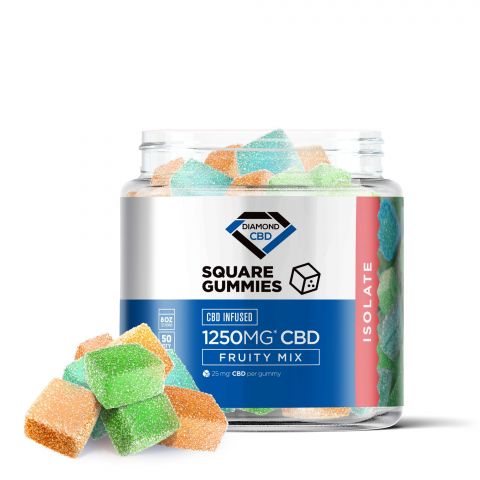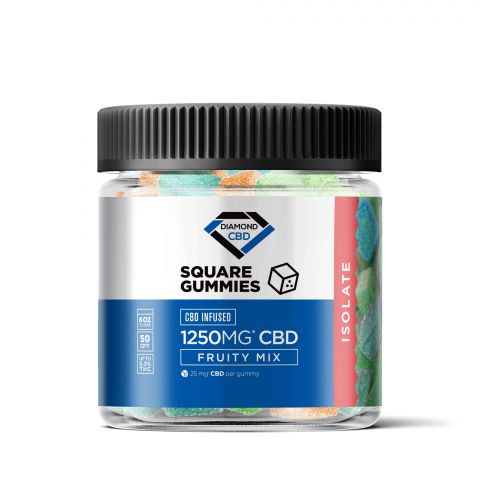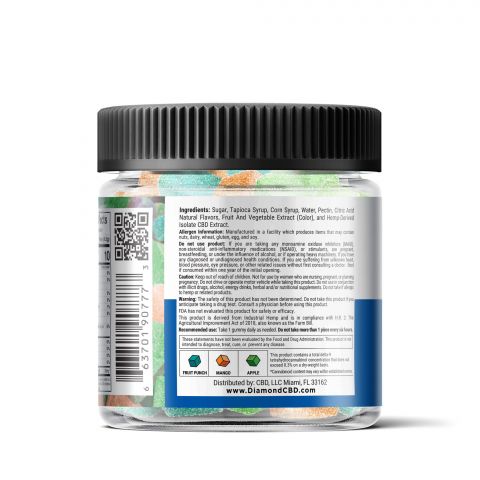 On sale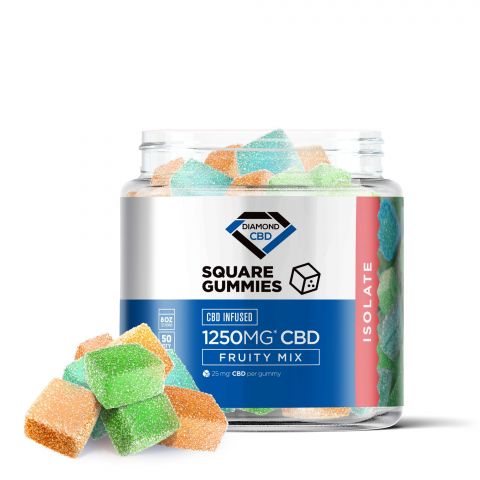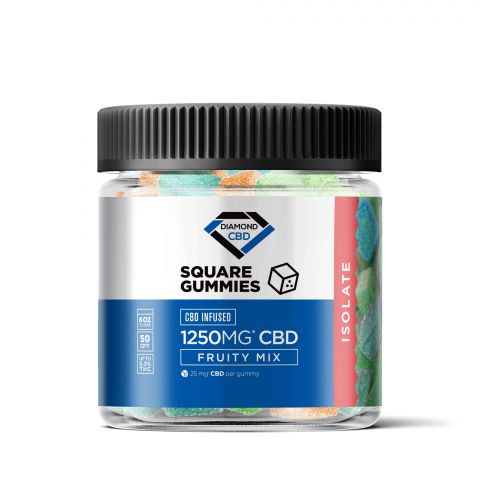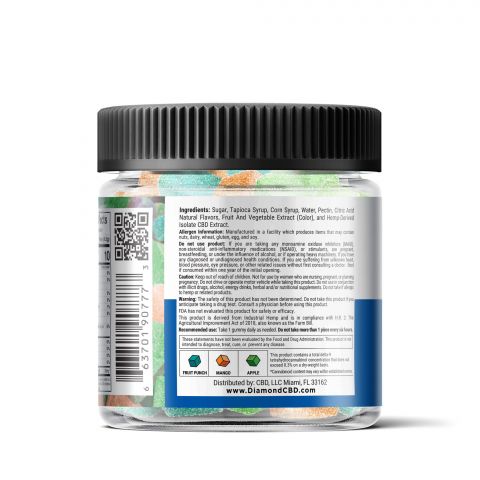 Fruity Mix Gummies - CBD Isolate - 1250mg - Diamond CBD
Product Info
Fruity Mix Diamond CBD Gummies with 1250mg of CBD Isolate are a new type of gummy, offering users a relaxing edible experience unlike anything they've tried before! Now you can take your wellness to a whole new level with cannabinoids that both taste and feel fantastic. These gummies will help you reinvigorate your daily routine. Available in some of your favorite flavors, you'll spend an entire day feeling fantastic with Diamond CBD Gummies.
Fruity Mix Diamond CBD CBD Isolate Gummies offer 1250mg of pure CBD Isolate. It's an amazing boost to your wellness that well have you feeling great. These gummies are made with all-natural, hemp-derived CBD, giving you a new way to feel relaxed and refreshed on a daily basis. But hurry! They're flying out of the store, so you better get yours before they're gone!
Diamond CBD CBD Isolate Gummies offer you a new and exciting edible experience. Whether you're a gummy expert or trying them for the first time, we guarantee that your daily routine will be refreshed. Not only are they one of the most unique hemp-based experiences available, but they are one of the safest too. As with all of our products, these gummies are sent to third-party labs for testing. It's our way of making sure you get nothing but the best. So try some today!
Strength Per gummy
25mg/gummy
Total CBD Isolate
1,250mg
CBD Isolate Per gummy
25mg/gummy
Sugar, Tapioca Syrup, Corn Syrup, Water, Pectin, Citric Acid Natural Flavors, Fruit And Vegetable Extract (Color), and Hemp-Derived Isolate CBD Extract.
Active Ingredients
CBD Isolate Products are pure, all-natural, hemp-infused cannabinoids known especially for their wellness effects. Users enjoy these products in myriad forms, including gummies and oils. Besides the wellness properties, users enjoy CBD Isolate Products for their many other benefits too.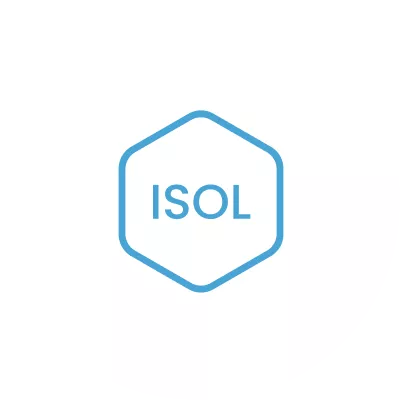 Customers Reviews
There are no reviews yet. Be the first to write a review!
Frequently Asked Questions
Raw CBD Isolate Powder: What is it?
You won't find any other cannabinoids, terpenes, or anything else in DuraCanna's pure, raw CBD isolate powder - there is no THC here, only pure CBD isolate isolate.
Gummies: What Are They Used For?
Despite the benefits of oil, gummies are very popular in both wellness and recreational circles due to their taste, versatility, and ease of storage.
Is Raw CBD suitable for cooking?
In fact, raw CBD isolate makes a perfect cooking ingredient. Add it to your favorite recipes to make them more health-conscious.
What is the best way to use CBD isolate?
There is no end to what you can do with CBD isolate powder. Raw CBD isolate powder can be used in cooking, to make oils, to make edibles, and so much more.
How can Gummies help me?
Providing a tasty alternative to other forms, gummies provide a variety of benefits, plus they just taste delicious!
Recently Viewed